2005 Banquette
U.S. Scale Masters Association


2005 Championships Awards Banquet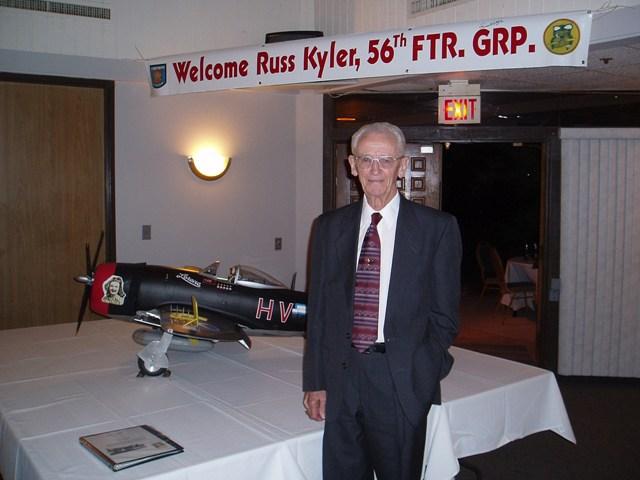 To Honor Russ Kyler
Tonight we honor Russ Kyler: patriot, warrior, friend. Russ was born March 13th, 1924, in Huntingdon, Pennsylvania. He enlisted in the US Army Air Corps right out of high school at 18 years old in September 1942. Two years later he emerged from the training pipeline as a combat pilot assigned to the famed 56th Fighter Group ("Col. Zemke's Wolfpack").

Russ scored his first victory on September 21st, 1944, shortly after arriving for combat duty with the Wolfpack in the 61st Fighter Squadron Bulldogs. Russ was flying on the wing of Maj Mike Gladych, a Polish national and fighter pilot who had received special permission to fly with the Army Air Corps. Russ credited his initial combat success to Maj Gladych's expert tutelage, but quickly learned the ropes on his own and became a standout fighter pilot in short time. In a time in late 1944 and early 1945 when air victories were becoming a rarity, Russ capitalized on being in the right place at the right time, scoring victories on Fockewulf 190s and a Messerschmidt 109, in addition to a rare probable kill on a Messerschmidt 262, the first combat jet aircraft in history.

On April 13th, 1945, Russ participated in the historic attack on Eggebeck airdrome in which the three squadrons of the Wolfpack destroyed 95 enemy aircraft on the ground in one day. Russ contributed five victories, destroying four Junker 88s and one Messerschmidt 210, raising his total victories to ten. This was a banner day for Russ and for the Wolfpack, which set the record for most enemy aircraft destroyed in one day. It marked the second anniversary of the Wolfpack in combat in the European Theater of Operations. The Wolfpack dedicated their victories in memory of President Roosevelt who had passed away the day before.
Dave Gianakos Model of Russ Kyler's Aircraft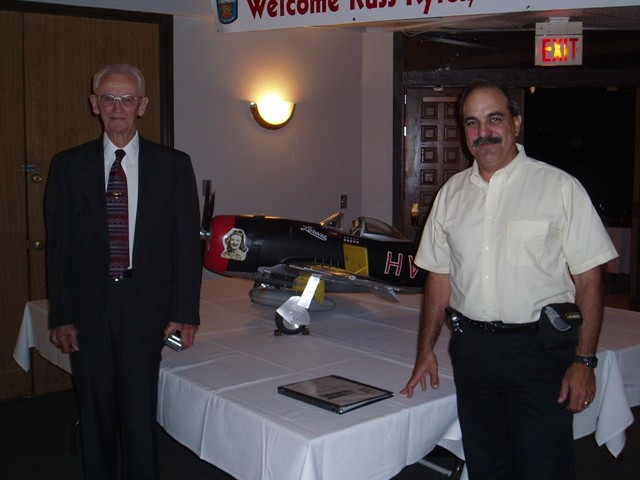 Russ Kyler and David Gianakos
David Knows how to detail.
Under a protective dome
at the Evergreen Museum,
in McMinnville, Oregon.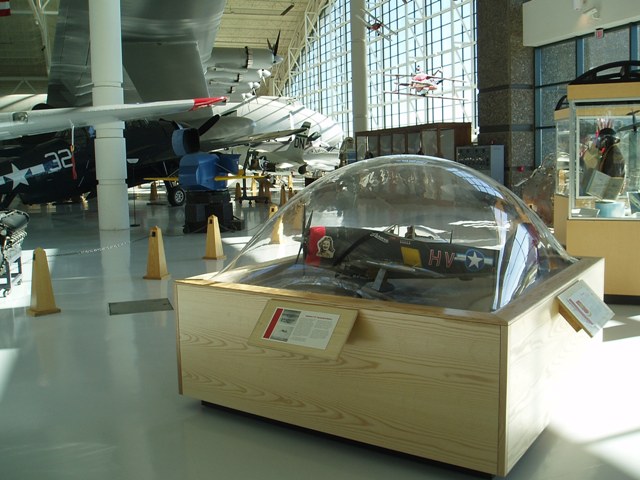 Also under the HUGE protective wing of the Howard Hughes' "Spruce Goose".
Joan and Russ Kyler

Russ Kyler, telling about his adventures.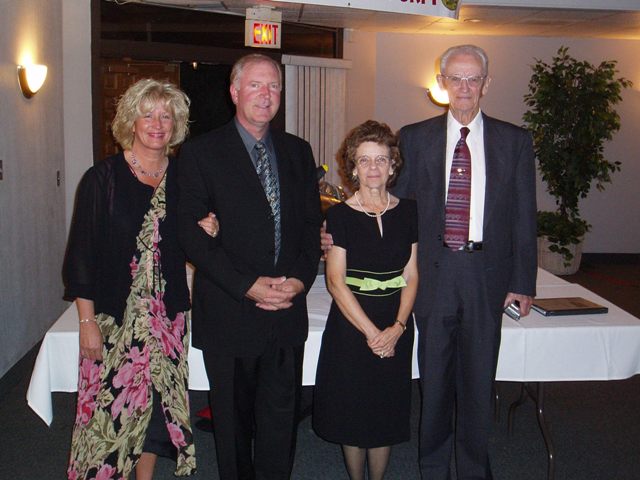 Josie and Earl Aune with Joan and Russ Kyler

Mike Barbee, East Coast Vice President, with wife Barb, from Delaware, OH.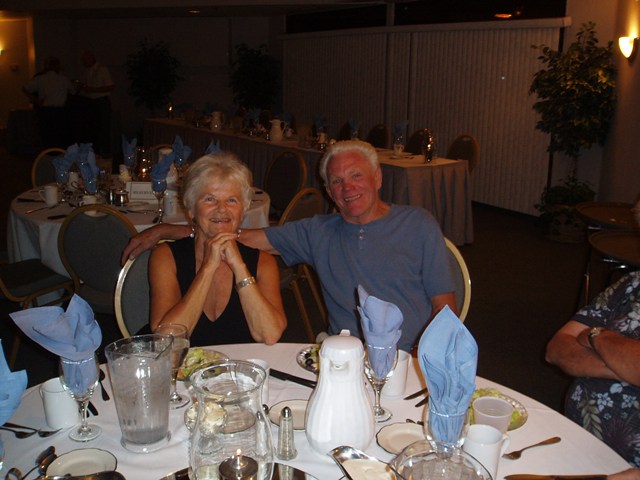 Richard and Elizabeth Heininge, from Aurora, OR.
Former Owners of Proctor Enterprises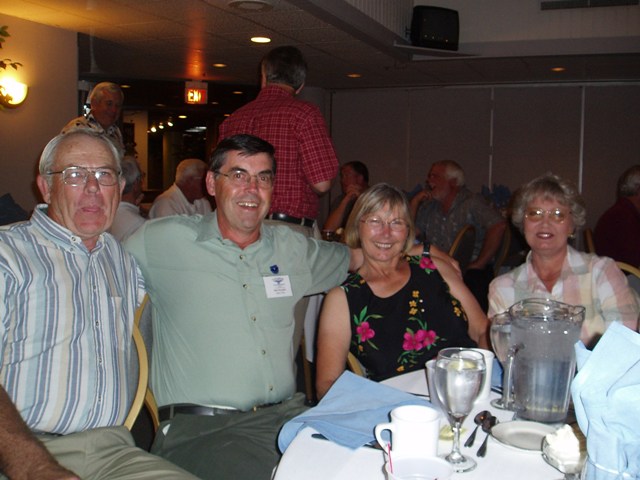 Roly Worsfold (NW Regional Manager)
from British Columbia,
with wife Dianne and friends.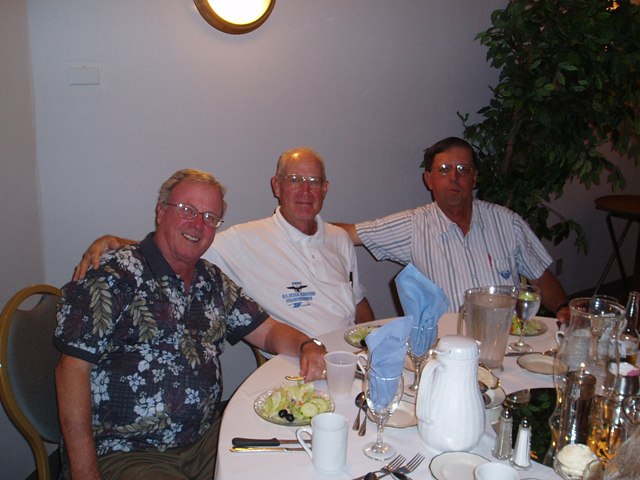 Larry Sutherland from Prather, CA
Dick Hansen from Portland, OR
with friend from Hawaii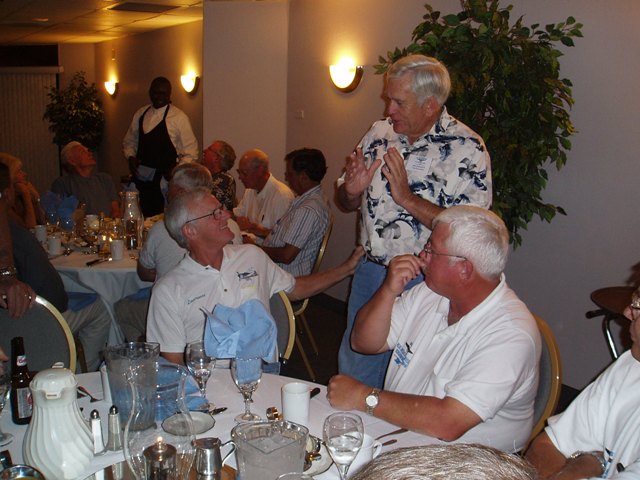 Not a very Big Fish? Olen?
Lawrence Harville (South Regional Manager) from Hurst, TX
Ed Newman from South Lake, TX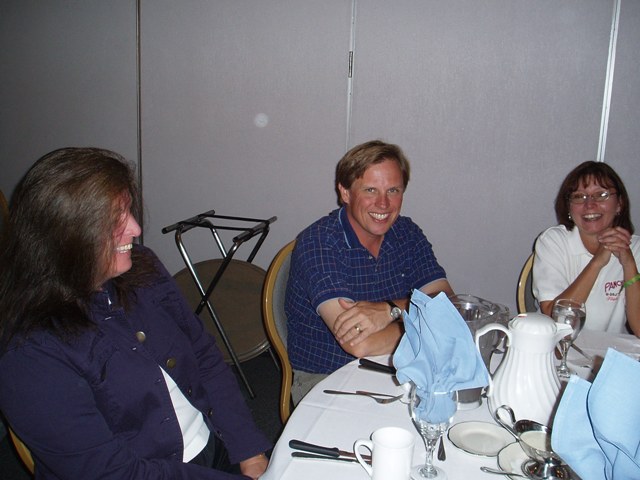 Great Family Time!
David Johnson from Champaign, IL
Best of the Best!

Jeff Lovitt, from Davis, CA
Best Mission Award-Expert
What a Team!