The Bucket List
THE BUCKET LIST
Ron Peterka
Have you seen that movie "The Bucket List"? In the movie two very different older men become close friends and make up a list of things they want to do or see before each one "kicks the bucket". Well, my bucket list is incomplete and much too long to have any chance of crossing off all the items. Two items have been crossed off during an effort of over ten years.
I won a championship with a model airplane I had built and found a very real personal friend in modeling that I value very highly. The path hasn't always been smooth, but every problem seemed to improve my skill and deepen our friendship.
After I retired in the early 90's I was able to spend more time on my favorite pastime….. building model aircraft, RC model aircraft. In fact I enjoyed building so much that my piloting skills never did catch up very much.
Well, my secondary hobby of writing about model airplanes, one thing I knew something about, brought some success with construction articles for model magazines, and finally I was offered a product review for a new scale model. The model turned out well and a photo of the model made the cover of the magazine. Since my piloting skills were questionable, I asked a newfound friend to test fly the model for in-flight photos. We worked well together and we decided, after a beverage or two, to enter the world of team scale model competition. After all, he could fly, and I could build. Perfect, right? At that point neither of us had made a serious competition flight in competition, so we began to learn.
Who knew there were so many rules? Oh, there are mandatory maneuvers and optional maneuvers? How really good was my model when judged by competent judges? Will the other competitors accept us into the group of serious contenders? (Yes, wholeheartedly.)
We made our debut at a qualifying contest in Mesa Arizona and I presented my best effort for static judging. Do you know how many errors they can find in the three categories of static judging? I do, and it was a long list. The judges were kind but uncompromisingly picky. But, I figured I could fix almost all the problems by the next contest.
My pilot and I discussed which maneuvers to choose for the optional selection and in what order we would attempt to fly them. Then we looked for our flight order and prepared the model. I still kid him about throwing up before the first flight. He claims he just needed a pit stop to drain a morning cup of coffee.
The static score was very mediocre and the total flight score was not much to write home about, but we hadn't crashed, and we both gained valuable experience. We would be back, and back, and back.
At the next contest the static judges tried to finish the list of deficiencies they had started at the last contest, the deficiencies were almost all new. The score was better, but not better enough.
My pilot was better, but not better enough. We still didn't qualify for the Championships round.
It was our third year of competition before we finally scored high enough in the ranking to qualify to fly in the Championships. The Championships that year were held in Dayton, Ohio, at the Air Force Air Museum. Talk about heaven for a scale modeler. We camped on the museum grounds and the museum was opened privately for the awards banquet. But, the most important and amazing thing happened there.
My pilot and I hoped fervently for a place in the top 10 in the team scale class. Then, lo and behold, we earned a sixth place. Talk about a nice ride home! It was a great feeling for a couple of pals who hadn't made a flight in competition just a few years before. We were both ready to go further and felt the experience helped our confidence immensely.
For the next six years we managed to qualify one way or another to fly in the Championships. We traveled all over the Country to Olathe, Kansas, Phoenix, Arizona, Muncie, Indiana (cold there), Hemet, California, and finally Sarasota, Florida. Our faithful Stinson survived two major crashes, but was rebuilt each time and placed us in the top ten every year but the one where we placed eleventh.
The weather was hot and humid at Sarasota in 2008 while the field was beautiful. An engine problem showed up during our first official flight and threatened to end our competition. A call for help and we had about fifty competitors and local club members ready to do anything they could to keep us in contention. What a great bunch of people to share a hobby with. We finally got the engine running just in time for the second flight.
The competition was tight in every class, and ours was no exception. It all boiled down to the scores from the last flight. A lot of anxious competitors waited for the scores to be tallied. The three best flight scores of each competitor are averaged and added to the static score for a total score.
By the closest margin in seven years of competition, the Stinson won First Place in Team Scale.
I guess I never mentioned the name of my good friend and a great pilot. He is Curtis Kitteringham from here in the San Diego area and we make a great team.
When the Scalemasters decided to open a competition for team scale it made it possible for guys like me, who are experienced builders, but who have never managed to get good piloting skills to locate an experienced pilot and compete with other teams in local and National competition. Thank you Scalemasters, and more than a few thanks to my pilot, Curtis.
So that's the story of how I crossed off a couple 'bucket list' projects. I hope anyone reading this will have as much fun as we have crossing off a project from your own 'bucket list'.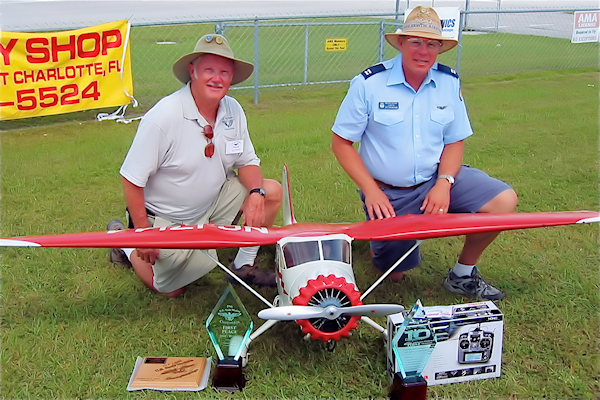 September 2009
Models/web articles/The Bucket List